---

---
ON THIS PAGE:
---
LINKS:

(top)

---
Your Choice of TRICARE Retail Pharmacies Changes Dec. 1, 2016
Express Scripts will add Walgreens to the TRICARE retail pharmacy network. CVS pharmacies will no longer be in the network. Take action to begin transferring your prescription drugs to a TRICARE network pharmacy by Dec. 1 to avoid paying the full retail price. READ MORE.
(top)

---
TRICARE Pharmacy Changes
Beginning February 1, 2016, TRICARE beneficiaries must pay the generic co-pay for OTC drugs. OTC coverage is now a permanent part of the TRICARE pharmacy program. Beneficiaries still need a prescription from their doctor for the OTC medication. For a list of covered OTC drugs, please click here.
Additionally, pharmacy co-pays also went up on February 1. Please see the chart below.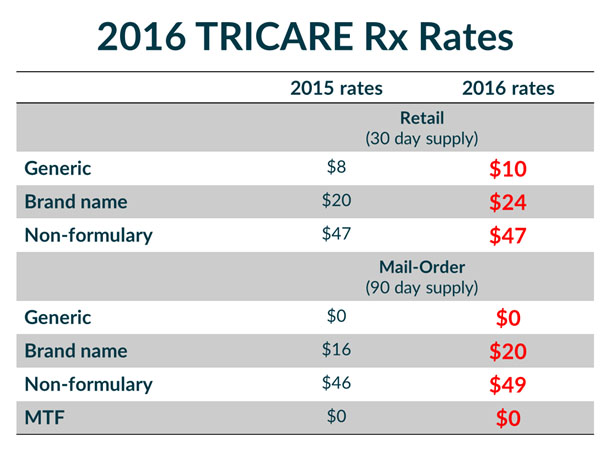 (top)

---
HOW YOU GET MEDICINE IS ABOUT TO CHANGE
TRICARE beneficiaries will be required to refill select maintenance medications through TRICARE Pharmacy Home Delivery or at amilitary pharmacy - or pay the full price at retail - beginning Oct. 1.This provision was originally tested through a pilot program from the FY13 defense bill, which mandated TRICARE for Lifebeneficiaries into the above requirements. The FY15 defense bill expanded the pilot to encompass all TRICARE beneficiaries, with the exception of those on active duty, thosewith other health insurance that provide drug coverage, or those who live overseas. While active duty servicemembers are exemptfrom the mandate, active duty family members will be required to participate in the program.In September, beneficiaries will receive a notification letter from TRICARE providing details on enrollment instructions and the waiverprocess. Unlike the original pilot, there will be no ability to "opt out" of the program after one year. Starting Oct. 1, beneficiaries will have approximately 90 days to move their prescriptions before being responsible for 100 percent ofthe cost share. Read more about the changes.
(top)

---
INCREASED ONLINE, PHONE USE ENDS NAVAL WALK-IN SERVICE
(From fosters.com Saturday, February 1, 2014)
PORTSMOUTH — Keeping up with the rapidly increasing number of TRICARE beneficiaries who most often turn to a laptop or cell phone when they have questions, walk in service at the Naval Branch Health Clinic/TRICARE Service Center will no longer be available as of April 1.
Find out more at www.tricare.mil/TSC.
NBHC Portsmouth patients still have a wide variety of secure, electronic customer service options available through www.tricare.mil. The new "I want to….." feature puts everything beneficiaries want to do online right on the front page of www.tricare.mil.
When walk-in service ended April 1, 2014, beneficiaries who want get personal assistance can call Health Net Federal Services LLC, at 1-877-874-2273, for enrollment and benefit help. All health care, pharmacy, dental and claims contact information is located at www.tricare.mil/contactus. Beneficiaries can get 24/7 TRICARE benefit information at www.tricare.mil, and make enrollment and primary care manager changes, and more online at www.tricare.mil/enrollment.
Rather than driving to an installation TSC, TRICARE beneficiaries can even combine high-tech with low-tech by downloading health care forms online and sending them in the old fashion way, through the U.S. mail – at a cost of less than 50 cents.
Walk-in customer service is also the most expensive possible customer service option. By eliminating walk-in customer service at TSCs, the Department of Defense estimates savings of approximately $250 million over five years. The change does not affect TRICARE benefits or health care delivery.
(top)

---
PILOT PROGRAM FOR REFILLS OF MAINTENANCE MEDICATIONS FOR
TRICARE FOR LIFE (TFL) BENEFICIARIES THROUGH
THE TRICARE MAIL-ORDER PHARMACY PROGRAM
The 2013 National Defense Authorization Act (NDAA) established a five-year pilot program that would require TFL beneficiaries to use the mail-order system for at least one year to refill selected maintenance medications (waivers would be allowed under certain hardship or other conditions); after one year, beneficiaries could opt out of mail-order participation.
The TRICARE For Life Pharmacy Pilot started mid-March 2014. This pilot requires TRICARE For Life (TFL) beneficiaries who fill prescriptions for select maintenance drugs at a retail network pharmacy to switch to either home delivery or a military pharmacy. View the list of select maintenance drugs covered by the pilot. Beneficiaries may opt out after using the mail-order refill system for a one year trial period. - See more at: TFL Rx Changes in March, Reminder: TFL Pharmacy Changes and TRICARE For Life Pharmacy Pilot
Read the text of the NDAA section covering this pilot program.
(top)

---
NEW TRICARE PRESCRIPTION COSTS
The 2013 National Defense Authorization Act (NDAA) raised the copayments for TRICARE prescription coverage.
The following changes went into effect on February 1, 2013:
TRICARE pharmacy copayments:
• Generic formulary drugs purchased at retail pharmacies will not change from $5.
• Brand name formulary drugs from retail pharmacies will go from $12 to $17.
• Non-formulary medications from retail pharmacies will go from $25 to $44.

TRICARE Home Delivery copayments:
• Generic formulary drugs will not change from $0.
• Brand name formulary drugs will go from $9 to $13.
• Non-formulary medications will go from $25 to $43.
Read the text of the NDAA section covering these increases.

(top)

---
ENHANCED TRICARE RETIREE DENTAL PROGRAM
The Enhanced TRICARE Retiree Dental Program is available to all military retirees (including gray area retirees) and their eligible family members, unremarried surviving spouses and their eligible children, as well as MOH (Medal of Honor) recipients and their eligible immediate family members. Find out more information on Facebook.
(top)

---
Supreme Court Health Care Ruling: No Impact on TRICARE
The June 2012 Supreme Court decision upholding the constitutionality of the Patient Protection and Affordable Care Act (ACA) has no impact on TRICARE health benefits for service members, military retirees and their families. TRICARE's commitment to providing the best possible health care to its more than 9.7 million beneficiaries remains unchanged. TRICARE is authorized by independent statutes, and remains under sole authority of the Defense Department and the Secretary of Defense.
(top)

---
NEW TRICARE STANDARD HANDBOOK RELEASED
TRICARE is making a handbook available to all beneficiaries covered under TRICARE Standard. This new manual goes into much greater detail than the old booklet, making it as useful as the TRICARE Prime and Prime Remote handbooks. You can obtain a copy in PDF by going to their web page as well as dowloading other TRICARE Handbooks. Click here to view the new STANDARD HANDBOOK.
(top)

---
ATTENTION: TRICARE-eligible and Medicare-eligible Beneficiaries Under Age 65
TRICARE-eligible and Medicare-eligible beneficiaries under age 65 should receive a letter in the mail from DEERS.
Beneficiaries under age 65, except the family members of active duty servicemembers, who are entitled to Medicare Part A because of disability or end-stage renal disease must purchase Medicare Part B. Please note that family members of active duty servicemembers who are eligible for Medicare retain eligibility for TRICARE Prime, Standard, and Extra whether they purchase Medicare Part B or not. However, purchase is recommended.
Medicare and TRICARE now are able to exchange data on beneficiaries that become Medicare eligible. If applicable, Medicare Part B enrollment now will be maintained on DEERS records. Recently, DEERS started mailing letters to this group of beneficiaries explaining the requirement to purchase Medicare Part B in order to remain entitled to TRICARE benefits.
Additionally, if a beneficiary stops paying Part B premiums, they will become ineligible for TRICARE. That means that no future claims will be paid by TRICARE, and recoupment action could be initiated to recover payments made for any ineligible period of time.
For questions about TRICARE and Medicare coordination, call 1-866-773-0404.
(top)
---
TRICARE PROVIDER CATEGORIES
(Reprinted from Hanscom Air Force Base
"Military Retirees Newsletter" - Summer 2005)
For those under age 65 that use TRICARE, Prime, Standard or Extra there continues to be confusion about what it means when a provider "takes" TRICARE. The question to ask a provider is if he/she is an "authorized" (non-network) provider, or a "participating" (network) provider. The difference is as follows.
AUTHORIZED OR NON-NETWORK PROVIDER is one who has submitted his/her credentials to TRICARE including appropriate state licensing and certification documents and personal information to meet state and federal billing and tax requirements. (As of 1 September 2004, all Medicare approved providers are accepted as TRICARE authorized). They are permitted to charge 15% above the TRICARE approved amount the beneficiary will be responsible for. Non-network providers may or may not submit the claim, which is paid under TRICARE Standard. TRICARE cannot pay for services from an unauthorized provider.
PARTICIPATING OR NETWORK PROVIDER is an authorized provider who has signed an agreement with the TRICARE contractor to accept a negotiated rate as payment in full (plus your cost share) and to file claims for services paid under TRICARE Extra.
The relative availability of "network" versus "non-network" providers will vary significantly from place to place. Assistance with finding a provider can be obtained at a TRICARE Service Center (TSC) or at www.tricare.osd.mil. For the North region, www.healthnetfederalservices.com. Since Medicare is the primary payer for those with TFL, these categories do not apply. You may go to any provider that accepts Medicare.
(top)

---
TRICARE RESOURCES
(Reprinted from Hanscom Air Force Base
"Military Retirees Newsletter" - Summer 2005)
For questions, or change of address for TRICARE Prime, Standard, or Extra call 1-877-874-2273 (1-877-TRICARE) – or on-line at www.healthnetfederalservices.com. Claims should be submitted to: Health Net Federal Services Inc., c/o PGBA LLC/TRICARE Claims, PO Box 870140, Surfside SC 29587-9740. To get TRICARE answers, or assistance by email send to TRICARE_Help@AMEDD.ARMY.MIL or QUESTIONS@tma.osd.mil.
For questions, or to update health insurance information for TRICARE For Life (TFL), call Wisconsin Physicians Services (WPS) at 1-866-773-0404, or visit www.tricare4u.com. Claims should be submitted to Wisconsin Physicians Services/TRICARE For Life, PO Box 7890, Madison WI 53707-7890.
Express Scripts is the contractor for both the Mail Order and Retail Pharmacy Programs
TRICARE Mail Order Pharmacy (TMOP) call – 1-866-363-8667 – www.express-scripts.com
TRICARE Retail Pharmacy (TRRx) call1-866-363-8779 – www.express-scripts.com
Claims for pharmacy, send to: Express Scripts Inc., PO Box 66518, St Louis MO 63166-6518
TRICARE Retiree Dental Plan call-1-888-838-8737 – www.ddpdelta.org/

DEERS Address Change - 1-800-538-9552 – www.tricare.osd.mil/DEERSAddress/

US Family Health Plan – Brighton Marine Health Center at 1-888-815-5510

US Family Health Plan – Martin's Point (NH, ME) 1-888-241-4456, or visit www.martinspoint.org

(top)

---
THIRD Rx TIER
DoD establishes medical necessity criteria for each non-formulary medication, placing certain medications on the third tier (more expensive) "non-formulary" category, requiring a $44 copayment for TRICARE Retail Pharmacy or $43 copayment for TRICARE Mail Order Pharmacy. You can check out a chart of third tier drugs at the TRICARE Pharmacy web site.
The $44 copay will buy a 30-day supply from a TRICARE Retail Pharmacy (TRRx) or the $43 copay will buy a 90-day supply from the TRICARE Mail Order Pharmacy (TMOP).
Third tier drugs will not normally be stocked in Military Treatment Facility (MTF) pharmacies but may be special-ordered if an MTF physician determines these drugs are medically necessary for a specific patient.
Beneficiaries or providers who have questions or concerns regarding these or other medications can call Express Scripts at 1-877-363-1303, or visit their website at http://www.express-scripts.com/TRICARE/. For questions about TMOP, visit http://tricare.mil/mybenefit/home/Prescriptions/FillingPrescriptions/TMOP. The Formulary Search Tool also can provide additional information about medications, their availability, and cost at: http://pec.ha.osd.mil/formulary_search.php#.
(top)

---
SIMILAR NAMES - DIFFERENT BENEFITS
TRICARE, Medicare, skilled nursing facility care and long-term care. Each has the word "care" in its name, but is in itself a totally unique health care benefit. So what are skilled nursing facility care and long-term care? Are either covered benefits under Medicare or TRICARE? What about TRICARE For Life (TFL)? Does this mean TRICARE pays all health care expenses for eligible beneficiaries? If you are a Uniformed Services beneficiary, family member, survivor, or provider, you need to know the difference. For details about each of these, use the following link: www.tricare.osd.mil/news/2003/news0322.cfm.
(top)

---
TRICARE Senior Pharmacy (TSRx) and TRICARE for Life (TFL)
Almost 4,500 Medicare eligible New Hampshireites who are military retirees and enrolled in Medicare Part B can participate in two medical programs, "TRICARE Senior Pharmacy" (TSRx) and "TRICARE for Life" (TFL), if they are in the DEERS (Defense Eligibility Enrollment Reporting System) database. This includes their spouses and survivors, if also enrolled in Medicare Part B and DEERS. Both programs are in addition to existing pharmacy and medical benefits offered on a space-available basis at many military installations.
TRICARE Senior Pharmacy retail and mail order service began April 1, 2001. Under the retail program, beneficiaries can fill most 30-day prescriptions at participating pharmacies at a cost of $5.00 for generic drugs and $17.00 for name brands. Costs will be higher at non-participating pharmacies. Using the National Mail Order Pharmacy, a 90-day prescription costs nothing for generic drugs and $13.00 for name brands.
TRICARE for Life began on October 1, 2001. TRICARE became the secondary payer to Medicare for Medicare-authorized services from civilian providers. Beneficiaries pay no annual enrollment fee, premium or deductible, so this program virtually eliminates the need for Medicare supplemental insurance.
Enrollment in TSRx and TFL
No enrollment is necessary. All that is required is a Medicare card (showing Part B participation) and a valid military ID card. For the ID card to be valid, the beneficiary's current family and address information must be registered in the DEERS (Defense Eligibility Enrollment Reporting System) database. DEERS registration can be accomplished at most armed forces military installations, and normally is verified each time an individual gets a new military ID card.
- TSRx:
To find local participating pharmacies (most national chains participate): 1-877-363-6337
Formulary: www.pec.ha.osd.mil/ac01001.htm
Mail Orders: 800-903-4680; or www.express-scripts.com
- DEERS (Defense Eligibility Reporting System) and ID Card Issuance
To register in DEERS, the beneficiary needs a current military ID card, which can be obtained or applied for while registering. The sponsor normally must be present to register family members, and will need to bring a copy of the marriage certificate for first-time registration. Surviving spouses who do not already have a military ID card should bring a current photo identification and a copy of the marriage certificate, along with the sponsor's DD Form 214 (Report of Separation From Active Duty), and a death certificate.
To update DEERS Information
1. Contact a nearby military personnel office; or
2. E-mail changes to addrinfo@osd.pentagon.mil; or
3. Mail changes to DEERS Support Office, Attn: COA, 400 Gigling Road, Seaside, CA 93955-6771; or
4. Visit https://www.tricare.osd.mil/DEERSAddress/; or
5. Call 1-800-538-9552
- Medicare Part B Participation
Medicare-eligibles not currently covered by Part B can sign up for it during the next General Enrollment Period which runs from January 1 through March 31. For more information about Part B, contact a local Social Security office or call Social Security toll free at 1-800-772-1213.
(top)

---
Hot Items | Contacts | TRICARE | Program Notes | Chapter News | Membership Info |
E-Mail Addresses | Newsletter | Group Travel | Transition Assistance | Odds and Ends