---

---
ON THIS PAGE:
READ MORE CHAPTER NEWS ON PAGE 2
---
CONGRATULATIONS!!
In this section we hope to share the good news, accomplishments and other items of interest from chapter members and their families worthy of recognition! If anyone has read an article on-line that you would like to include here, please email the link to webmaster@moaa-nh.org so that we may share the news with our members.

Congratulations to chapter member CW5 Bernard L. Satterfield, USA (Ret.) who was chosen by the New Hampshire Fisher Cats baseball team to throw out the first pitch at a Fisher Cats home game (8/22/2018) on behalf of Eastern Propane and Oil to recognize Veterans, enlisted Military and their employers for work within the various New Hampshire communities. See photo.

Congratulations to chapter member CW5 Bernard L. Satterfield, USA (Ret.) who received a Director's Coin from Alfred J. Montoya, Director of the Manchester VAMC, in recognition of 40 years of service. See photo.

Congratulations to chapter president COL H. Allen (Chad) Chadwick, USA (Ret.), Chairman of the Piscataqua Maritime Commission, for his efforts in executing another successful Sail Portsmouth in 2015. Read the letter to the editor in SeacoastOnline.

Congratulations to chapter member COL Roger A. Sevigny, USA (Ret.), New Hampshire Insurance Commissioner, who has been named chair of the Health Insurance and Managed Care Committee, a policy group of the National Association of Insurance Commissioners.

Congratulations to US Senator Kelly Ayotte (wife of chapter member Lt Col Joe Daley, USAF (Ret.)) who received MOAA's Colonel Arthur T. Marix Congressional Leadership Award in recognition of strong and consistent support of national defense and the uniformed services community, including her role in leading the successful fight to repeal unfair cuts to military retiree benefits. Read the press release.

Congratulations to chapter member CDR Peter S. Burdett, USN (Ret.) who has been appointed as Civilian Aide to the Secretary of the Army (CASA) for the state of New Hampshire. It's good to see a Navy person helping out the Army! See photo.
---
CHAPTER DIRECTORY
The chapter is planning to issue a new member directory at the beginning of next year (2019). In order for it to be as accurate as possible, we need correct, up-to-date information before it is printed. Please look over your address label on the September newsletter. It has all the data that will be included in your entry in the directory (except your telephone number). Please check that your name, rank, service, status [(ACT), (RET), (FRM)], spouse's name, address and Zip are all current and spelled correctly. If you can still find your old directory (it is dated 2016 on a pink cover), check that your telephone number is correct; or, if you can't find it or you have changed your phone number or joined the chapter in the last three years, please provide us with your current number. Any changes/corrections should be mailed to MOAA-NH at PO Box 712, Dover, NH 03821-0712 or emailed to Chapter@moaa-nh.org. Please ensure that they are received by the end of this year to be included in the directory. As they say in computer speak, garbage in – garbage out! Thank you for your assistance.
(top)

---
New Hampshire Chapter "Storms" Capitol Hill - 2018
Chapter Past President CDR Peter Burdett, USN (Ret.) participated in this year's MOAA's annual "Storming the Hill" on April 18, 2018. MOAA descended on Capitol Hill on Wednesday, with members flooding the offices of every senator and representative, all with a unified message: Action must be taken to protect servicemembers' pay and benefits. And further, a wrong must be corrected for the 200,000-plus servicemembers currently being denied retirement pay due to injury or illness. "MOAA members spent Wednesday calling for important legislative actions to benefit servicemembers, veterans and spouses. We clearly made a statement as 150 MOAA members fought for the 200,000-plus Chapter 61 retirees, the president's 2.6 percent pay raise for 2019 and for further protection for military pay and benefits," said MOAA President and CEO Lt. Gen. Dana T. Atkins, USAF (Ret). "But Storming's true impact will be realized in the weeks to come, as MOAA's government relations staff continues to work with members of Congress to make these critical actions a reality."
Peter met personally with Senator Hassan and Congresswoman Kuster and with assistants to Senator Shaheen and Congresswoman Shea-Porter specifically focusing on two key issues during his meetings:
Maintaining military pay and benefits in order to recruit and retain an all-volunteer force. MOAA supports maintaining the military pay and benefits essential to recruiting and retaining the high-quality all-volunteer force needed to meet national security and warfighting requirements now and in the future. The president's proposed 2.6-percent pay raise, as aligned with the Employment Cost Index (ECI), is the largest in nine years, but still just keeps pace with private-sector wage growth for this upcoming fiscal year, leaving the military behind civilian wage growth by, coincidentally, the same margin - 2.6 percent. The only way to close this cumulative gap is to raise military pay above the ECI, as Congress did between 2000 and 2010. Click here to read more.
Ending reduced pay for Chapter 61 retirees. Chapter 61 retirees have been medically retired prior to reaching a 20-year service career with a disability rating of 30 percent or greater. The term "Chapter 61" comes from the corresponding chapter in Title 10 U.S. Code that covers disability retirements. MOAA's position is that all eligible servicemembers should receive both retirement and disability compensation, which is not the case for Chapter 61 retirees. MOAA supports H.R. 333, introduced by Rep. Sanford Bishop (D-Ga.), which addresses both the Chapter 61 issue and MOAA's wider legislative priority regarding concurrent receipt. Click here for more information on Chapter 61 retiree pay.
You can read more about this year's "Storming the Hill" on MOAA's web site.
Peter Burdett, Congresswoman Kuster and Peter's wife. Susie Burdett Peter Burdett, Senator Hassanand Peter's wife. Susie Burdett
Peter Burdett and Joe Reid, Assistant to Senator Shaheen Peter Burdett and Jarrett Freedman, Assistant to Congresswoman Shea-Porter

(top)

---
New Hampshire Chapter Appoints New Auxiliary Liaison
Surviving spouse members are recognized in both the national and New Hampshire arenas as being a very important component of MOAA. They possess many skills and talents, understand the challenges of military life, and appreciate the sacrifices made by service members and their families. They are a valuable resource for our organization.
At the April MOAA-NH Board of Directors' meeting, Gwen Devoe was appointed as our chapter's new Auxiliary Liaison, the primary point of contact for the legislative and benefits issues concerning our surviving spouses. She relieves Beverly Kemp of Peterborough who performed this important duty faithfully for five years, and for which MOAA-NH is most grateful and appreciative. Gwen is a surviving spouse herself, having lost her husband of 26 years in 2012. When asked if she would accept the Auxiliary Liaison office she said, "I am honored. It is important that they (our surviving spouses) be remembered as well, and if I can help ease their burdens in getting them the information that they need after a loved one has died, I am more than happy to do so."
Gwen can be reached at gydvo@aol.com, by phone at 603-501-0994, or by writing her at 319 Post Rd., Greenland, NH 03840-2318.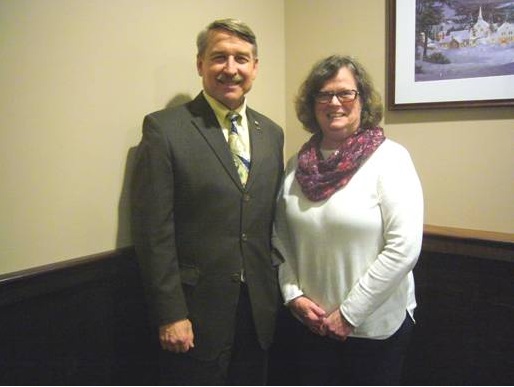 MOAA-NH President Pete Burdett with Auxiliary Liaison Gwendolen Devoe
(top)

---
THE GRANITE STATE WARRIORS AWARD
The New Hampshire Chapter of the Military Officers Association of America (MOAA-NH) established the Granite State Warriors Award in 2011 to annually recognize the superb contributions of a New Hampshire based organization and/or a New Hampshire resident that have:
Enhanced the war fighting capabilities of US military forces through the development and introduction of weapon systems and/or subsystems that have led to the strengthening of our national security or
Improved the health, morale, welfare, and recognition of US military personnel and their direct families through the creation and delivery of unique services either in the US or where are military forces are deployed. Such unique services are specifically designed to improve the quality of life of our military forces and their families.
Read more about this important award and the past recipients.

(top)

---
CHAPTER RECEIVES SIXTEENTH 5-STAR AWARD "MEDALLION"
(top)

---
CHAPTER RECEIVES COMMUNICATIONS AWARD FROM MOAA FOR 2017
(top)

---
CHAPTER SUPPORTS CHRISTMAS AT THE TILTON HOME
(top)

---
NEW HAMPSHIRE CHAPTER SCHOLARSHIP LOAN PROGRAM
The NH Chapter Scholarship Loan program was established in 1985. Loans are made with funds donated by the chapter membership, and the program is managed by a Scholarship Committee as established in the chapter by-laws. Over 65 students have been assisted by this program since it began.
Eligibility is restricted to children and grandchildren of chapter members. Loans are interest-free, and are only granted to college level undergraduate students.
Repayment of a loan is expected to begin six months after completion of a student's academic program at the rate of 1/50th of the loan per month. Repayment of subsequent loans to the same student will be at the same rate, commencing in sequence each year from the date that repayment of the first loan begins.
Portions of a student's loan(s) may be forgiven, based on academic performance, at the discretion of the scholarship committee.
The scholarship committee meets in June each year to review applications. Applicants are considered based on merit, not need. The amount of a loan will be based on funds available and the number of students applying. Currently the loan amounts are either $2,000.00 or $3,000.00.
Application forms may be obtained by contacting: Col. Joe DiChiaro, P.O. Box 865, Londonderry, NH 03050. Telephone: (603) 363-2396. Email: j.dichiaro@comcast.net.
Check out the photo of a recent scholarship recipient.
(top)

---
SCHOLARSHIP COMMITTEE APPROVES 9 FOR LOANS
The Scholarship Loan Committee met on July 6, 2018 to consider nine applications for loan for the 2018-2019 academic year. Five were from students already in the program, one was from a student who was in the program but did not apply last year and three were new applicants. All nine applications were approved. In accordance with the change of policy. first year student applicants receive $2000 and continuing students receive $3000. Chick here for a list of the students approved.
(top)

---
ATTENTION SNOWBIRDS
For all of you that go south for the winter (or at any other time), we need your help. In order to keep our mailing list current, we need to know your alternate address where you go (other than in NH). Please help us out by providing your other mailing address to include street, city, state, ZIP +4 and phone number (if available) and the approximate dates that you are out of New Hampshire. This way you can continue to receive important information about your chapter. Please provide the information to MOAA-NH at PO Box 712, Dover, NH 03821-0712 or emailed to chapter@moaa-nh.org. Thank you for your assistance.
---
---
The Board of Directors meets once a month on the second Thursday of each month at 6:30 pm, currently at the Red Blazer Restaurant in Concord, NH. All chapter members are welcome to attend any Board meetings. If a chapter member has any item they wish to put before the Board, please send it to any of the chapter officers listed on the "Contacts" page of this web site.
(The Chapter hopes to keep its membership informed of important items/issues that were brought up, discussed, or voted on by the Board of Directors at their most recent meeting.) The file format is PDF. You will need Adobe Reader in order to open and read it. If you don't have Adobe Reader, click on the icon to download it.

---
ELECTION RESULTS !!
The following are the results of the elections for Chapter officers and Board members held at the Annual Meeting of the Chapter, November 10, 2018:
Chapter Officers (One year term)
| | |
| --- | --- |
| President | CAPT F. Warren Coulter, USN (Ret.) |
| Vice President | CWO4 Robert D. Jaffin, USN (Ret.) |
| Secretary | CDR Michael A. McLean, USN (Ret.) |
| Treasurer | CDR James R. Day, Jr., USN (Ret.) |
Board of Directors (Three year term)
Col Andrew J. Breuder, USAF (Ret.)
Col Gerard J. Boyle, USMC (Ret.)
Lt Col Wayne E. Balcom, USAF (Ret.)
Col R. Bancroft McKittrick, USMC (Ret.)
(top)

---
MOAA-NH CHAPTER TAPS
A list of chapter members deceased since the 2012 Annual Meeting
A list of chapter members deceased since the 2013 Annual Meeting
A list of chapter members deceased since the 2014 Annual Meeting
A list of chapter members deceased since the 2015 Annual Meeting
A list of chapter members deceased since the 2016 Annual Meeting
A list of chapter members deceased since the 2017 Annual Meeting
A list of chapter members deceased since the 2018 Annual Meeting
(top)

---
(top)

---
(top)

---
Hot Items | Contacts | TRICARE | Program Notes | Chapter News | Membership Info |
Newsletter | Group Travel | Transition Assistance | Odds and Ends