---

---
ON THIS PAGE:
READ MORE CHAPTER NEWS ON PAGE 2
---
CONGRATULATIONS!!
In this section we hope to share the good news, accomplishments and other items of interest from chapter members and their families worthy of recognition! If anyone has read an article on-line that you would like to include here, please email the link to webmaster@moaa-nh.org so that we may share the news with our members.

Congratulations to chapter member CW5 Bernard L. Satterfield, USA (Ret.) who received a Director's Coin from Alfred J. Montoya, Acting Director of the Manchester VAMC, in recognition of 40 years of service. See photo.

Congratulations to chapter president COL H. Allen (Chad) Chadwick, USA (Ret.), Chairman of the Piscataqua Maritime Commission, for his efforts in executing another successful Sail Portsmouth in 2015. Read the letter to the editor in SeacoastOnline.

Congratulations to chapter member COL Roger A. Sevigny, USA (Ret.), New Hampshire Insurance Commissioner, who has been named chair of the Health Insurance and Managed Care Committee, a policy group of the National Association of Insurance Commissioners.

Congratulations to US Senator Kelly Ayotte (wife of chapter member Lt Col Joe Daley, USAF (Ret.)) who received MOAA's Colonel Arthur T. Marix Congressional Leadership Award in recognition of strong and consistent support of national defense and the uniformed services community, including her role in leading the successful fight to repeal unfair cuts to military retiree benefits. Read the press release.

Congratulations to chapter member CDR Peter S. Burdett, USN (Ret.) who has been appointed as Civilian Aide to the Secretary of the Army (CASA) for the state of New Hampshire. It's good to see a Navy person helping out the Army! See photo.
---
New Hampshire Chapter Appoints New Auxiliary Liaison
Surviving spouse members are recognized in both the national and New Hampshire arenas as being a very important component of MOAA. They possess many skills and talents, understand the challenges of military life, and appreciate the sacrifices made by service members and their families. They are a valuable resource for our organization.
At the April MOAA-NH Board of Directors' meeting, Gwen Devoe was appointed as our chapter's new Auxiliary Liaison, the primary point of contact for the legislative and benefits issues concerning our surviving spouses. She relieves Beverly Kemp of Peterborough who performed this important duty faithfully for five years, and for which MOAA-NH is most grateful and appreciative. Gwen is a surviving spouse herself, having lost her husband of 26 years in 2012. When asked if she would accept the Auxiliary Liaison office she said, "I am honored. It is important that they (our surviving spouses) be remembered as well, and if I can help ease their burdens in getting them the information that they need after a loved one has died, I am more than happy to do so."
Gwen can be reached at gydvo@aol.com, by phone at 603-501-0994, or by writing her at 319 Post Rd., Greenland, NH 03840-2318.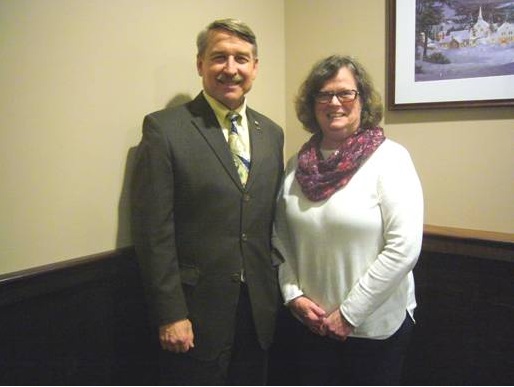 MOAA-NH President Pete Burdett with Auxiliary Liaison Gwendolen Devoe
(top)

---
New Hampshire Chapter "Storms" Capitol Hill - 2017
Chapter President CDR Peter Burdett, USN (Ret.) participated in this year's MOAA's annual "Storming the Hill" on April 5, 2017. Over 165 MOAA members and staff took the Hill while thousands more flooded email inboxes with similar messages. This valuable time with lawmakers goes a long way toward accomplishing MOAAs legislative goals. Initial feedback from the event suggests that our issues were well received, but there is still quite a lot of work to do. The efforts of MOAA members are already paying dividends. 23 additional representatives became cosponsors of legislation to repeal the widows tax, up from 53 just one week ago. 18 members of the Senate have signed on for repeal, an increase from 17 previously. We anticipate more cosponsors to sign on following the Easter recess. Peter met with our Congressional delegation and specifically focused on three key issues during his meetings:
Eliminate the "Widows Tax" (SBP-DIC Offset) protecting Survivor Benefit Plan-Dependency and Indemnity Compensation (SBP-DIC) benefits for military widows and widowers from the military "widows tax". Current law requires surviving spouses of active duty or retired members who died of a service- connected cause to forfeit $1 of their military SBP annuity for each $1 received in DIC. For FY 2017, DIC is $1,258 a month ($15,095 a year), paid only to survivors of veterans whose death is determined to have been caused by service. This offset wipes out most or all of the SBP check for a majority of survivors, including those whose servicemembers purchased the plan through deductions from their retired pay. At a minimum and absent full repeal of the SBP-DIC offset this year, SSIA should be extended 10 years, with incremental increases to the monthly amount to assist affected survivors. Read more about this issue in this brochure.
Eliminate Harmful Sequestration Cuts. The Budget Control Act of 2011established automatic budget cuts known as sequestration and put America's national defense capabilities at great risk. During the 2011 debt negotiations, the administration agreed to reduce the DoD budget by $487 billion over a 10-year period; however, with the enactment of sequestration, additional reductions to the defense budget of $500 billion were added. Although debt reduction is a national priority, a disproportional share of this burden must not be passed on to servicemembers and military family members, who already have served and sacrificed more than other segments of our society. Congress needs to end the harmful effects of sequestration by supporting a bipartisan debt-reduction package that avoids disproportional penalties on the Department of Defense affecting servicemembers and military retirees and their families. Read more about this issue in this brochure.
Prevent Disproportional TRICARE Fee Hikes (PDF) The military health care benefit is a commitment our grateful nation makes to servicemembers, their families, military retirees, and survivors for their extraordinary service and sacrifice. MOAA thanks congressional members for their efforts in last year's NOAA to reform the Military Health System. These reforms recognized that decades of arduous service and sacrifice in uniform constitute a very large, prepaid, in-kind premium that warrants a top-tier health benefit-commensurately better in cost and value than any civilian health plan. MOAA believes the current fee structure to be a fair value in terms of the proportion of costs borne by the beneficiaries and the cost absorbed by the government, considering the extended service and sacrifice of the currently serving and career force and their families. A central tenet of this philosophy is beneficiaries' fees should not rise faster than does their compensation. In other words, the annual percentage fee increase should not exceed the annual retired pay COLA percentage. Read more about this issue in this brochure.
Peter provided the following comments concerning his participation in Storming the Hill:
I was able to visit all the offices and have detailed discussions. Met with Senator Hassan and Representative Kuster and their legislative assistants in person. Senator Shaheen was in an all afternoon "closed" meeting of the Senate Armed Services Committee (SASC), but I briefed Patrick Day. Sue Mayer stood in for Carol Shea-Porter…who issued a letter in support of continuing Choice. All the offices also covered thoughts on needs for "Choice 2.0". The Senate has already voted to extend the current law.
I also took some time to meet with Brad Bowman, who was with Kelly Ayotte's office last year. He is now the National Security Advisor to Senator Todd Young of Indiana who I had an opportunity to also greet and make a MOAA connection.
The daylong event culminated with a dinner for MOAA Council and Chapter leaders and their spouses, featuring keynote speaker Rep. Mike Coffman (R-Colo.), chair of the House Armed Services Subcommittee on Personnel. The Congressman has been a longtime advocate for survivors, and is a strong advocate for MOAA's key storming priorities. Coffman praised the work MOAA is doing to take put an end to sequestration, which he said is harming servicemembers. Pilots aren't getting enough flight hours, he said, and deployed units are being overstretched. The country has a duty to take care of the men and women who've spent the past 15 years at war, he said. "When I look at the force today, I just think that we have … the most elite force this country has ever had," he said. "It's just extraordinary."
MOAA President Lt. Gen. Dana T. Atkins, USAF (Ret), introduced Coffman and closed the evening by thanking the stormers who had taken to Capitol Hill earlier that day to engage their congressional representatives.
You can read more about this year's "Storming the Hill" on MOAA's web site.
Peter Burdett and Senator Hassan Representative Kuster and Peter Burdett

(top)

---
THE GRANITE STATE WARRIORS AWARD
The New Hampshire Chapter of the Military Officers Association of America (MOAA-NH) established the Granite State Warriors Award in 2011 to annually recognize the superb contributions of a New Hampshire based organization and/or a New Hampshire resident that have:
Enhanced the war fighting capabilities of US military forces through the development and introduction of weapon systems and/or subsystems that have led to the strengthening of our national security or
Improved the health, morale, welfare, and recognition of US military personnel and their direct families through the creation and delivery of unique services either in the US or where are military forces are deployed. Such unique services are specifically designed to improve the quality of life of our military forces and their families.
Read more about this important award and the past recipients.

(top)

---
CHAPTER RECEIVES FIFTEENTH 5-STAR AWARD "MEDALLION"
(top)

---
CHAPTER RECEIVES COMMUNICATIONS AWARD FROM MOAA
(top)

---
CHAPTER SUPPORTS CHRISTMAS AT THE TILTON HOME
(top)

---
NEW HAMPSHIRE CHAPTER SCHOLARSHIP LOAN PROGRAM
The NH Chapter Scholarship Loan program was established in 1985. Loans are made with funds donated by the chapter membership, and the program is managed by a Scholarship Committee as established in the chapter by-laws. Over 65 students have been assisted by this program since it began.
Eligibility is restricted to children and grandchildren of chapter members. Loans are interest-free, and are only granted to college level undergraduate students.
Repayment of a loan is expected to begin six months after completion of a student's academic program at the rate of 1/50th of the loan per month. Repayment of subsequent loans to the same student will be at the same rate, commencing in sequence each year from the date that repayment of the first loan begins.
Portions of a student's loan(s) may be forgiven, based on academic performance, at the discretion of the scholarship committee.
The scholarship committee meets in June each year to review applications. Applicants are considered based on merit, not need. The amount of a loan will be based on funds available and the number of students applying. Currently the loan amounts are either $2,000.00 or $3,000.00.
Application forms may be obtained by contacting: Col. Joe DiChiaro, P.O. Box 865, Londonderry, NH 03050. Telephone: (603) 363-2396. Email: j.dichiaro@comcast.net.
Check out the photo of a recent scholarship recipient.
(top)

---
SCHOLARSHIP COMMITTEE APPROVES 9 FOR LOANS
The Scholarship Committee met on July 7, 2017 to consider nine applications for scholarship loans for the 2017-18 academic year. There were four applications from students already in the program and five from new applicants. Chick here for a list of the students approved.
(top)

---
ATTENTION SNOWBIRDS
For all of you that go south for the winter (or at any other time), we need your help. In order to keep our mailing list current, we need to know your alternate address where you go (other than in NH). Please help us out by providing your other mailing address to include street, city, state, ZIP +4 and phone number (if available) and the approximate dates that you are out of New Hampshire. This way you can continue to receive important information about your chapter. Please provide the information to MOAA-NH at PO Box 712, Dover, NH 03821-0712 or emailed to chapter@moaa-nh.org. Thank you for your assistance.
---
---
The Board of Directors meets once a month on the second Thursday of each month at 6:30 pm, currently at the Red Blazer Restaurant in Concord, NH. All chapter members are welcome to attend any Board meetings. If a chapter member has any item they wish to put before the Board, please send it to any of the chapter officers listed on the "Contacts" page of this web site.
(The Chapter hopes to keep its membership informed of important items/issues that were brought up, discussed, or voted on by the Board of Directors at their most recent meeting.) The file format is PDF. You will need Adobe Reader in order to open and read it. If you don't have Adobe Reader, click on the icon to download it.

---
ELECTION RESULTS !!
The following are the results of the elections for Chapter officers and Board members held at the Annual Meeting of the Chapter, November 4, 2017:
Chapter Officers (One year term)
| | |
| --- | --- |
| President | CAPT F. Warren Coulter, USN (Ret.) |
| Vice President | CWO4 Robert D. Jaffin, USN (Ret.) |
| Secretary | CDR Michael A. McLean, USN (Ret.) |
| Treasurer | CDR James R. Day, Jr., USN (Ret.) |
Board of Directors (Three year term)
CAPT William Luti, USN (Ret.)
CAPT James P. Spotts, USCG (Ret.)
CPT James R. LeFebvre, USAR
Capt Raymond P. D'Amante, USAF
Board of Directors (One year term)
Lt Col Wayne E. Balcom, USAF (Ret.)
(top)

---
MOAA-NH CHAPTER TAPS
A list of chapter members deceased since the 2012 Annual Meeting
A list of chapter members deceased since the 2013 Annual Meeting
A list of chapter members deceased since the 2014 Annual Meeting
A list of chapter members deceased since the 2015 Annual Meeting
A list of chapter members deceased since the 2016 Annual Meeting
A list of chapter members deceased since the 2017 Annual Meeting
(top)

---
(top)

---
(top)

---
Hot Items | Contacts | TRICARE | Program Notes | Chapter News | Membership Info |
Newsletter | Group Travel | Transition Assistance | Odds and Ends