---

---

2023
April 1, 2023

The Common Man Inn & Spa, Plymouth, NH
Speaker: COL Davis Ulricson USANG, Commander of New Hampshire's Brigade, who just returned after a 9 month deployment to the Middle East commanding New Hampshire's finest
(more info) NOTE RESPONSE DEADLINE IN FLYER

June 17, 2023

Tin Mountain Conservation Center, Albany, NH
Speakers: Members of NHARG's MEDEVAC and VSAR (Volunteer Search and Rescue) Ground Teams

August 5, 2023

Lobsterbake, PNSY, Kittery, ME

November 4, 2023

Annual Meeting, Nashua Country Club, Nashua, NH


2023

First Meeting -Nashua Country Club
It was a clear, crisp winters day on February 18th when the chapter held its annual Granite State Warrior Award luncheon. This year it was held at the Nashua Country Club in Nashua. As always, the Nashua Country Club put on an excellent meal, and the service was second to none. This year's awardees were Phil and Julie Taub, founders of Swimming With A Mission (SWAM). Their original event featured a swim across Newfound Lake. Five years later, they now have hundreds of swimmers and volunteers showing up and raising money for our Veterans. A featured event is a unique team building day led by the Navy SEALs. Last year, they added a new event, Green Beret With A Mission challenge.
Prior to the beginning of lunch, US Senator Maggie Hassan spoke about the work of the Taub's and also some of the current legislation she is sponsoring in Washington. Phil Taub gave a moving presentation about what SWAM is doing now and what they are undertaking beyond the swimming effort. They are engaged in efforts to help veterans in areas that the various government agencies are dragging their feet on. His talk was well received by everyone. At the end, president, Jim LeFebvre, Presented the Taub's with a certificate making them Honorary members of the chapter.
| | | | | |
| --- | --- | --- | --- | --- |
| Sen Hassan | February Luncheon | Head Table | The Taub's | Speakers' Gift |
---
2022

Summer Meeting - White Mountain Hotel and Resort
The chapter held its second (summer) luncheon on June 4, 2022 at the White Mountain Hotel and Resort in North Conway. Despite the forecast of showers, 66 chapter members and guests signed up for the trip up north to attend the function. Everyone present enjoyed the scenic view from the dining room of the hotel and dined on a delicious choice of Marinated Beef Tips or Chicken Cordon Bleu. We were pleased to have chapter member, Hon. Gerard J. Boyle, Col, USMC (Ret.), Senior Judge, New Hampshire Circuit Court, who gave an entertaining anecdotal story from his early career on the subject "It is never a wrong time to do the right thing."
| | | | |
| --- | --- | --- | --- |
| Check In Here | Socializing Before Lunch | June Luncheon | Speaker's Gift |
---
Annual Clambake
The forecast was for uncomfortably hot weather with a heat index near 100°; however, with a gentle Seabreeze, the day turned out to be very comfortable! This year the Clambake moved back to its traditional date of the first Saturday in August – this year it being on August 6, 2022. It was also decided to change the name from "Clambake" to "Lobsterbake" as we do not offer steamed clams on the menu (although we do offer Clam Chowder). Again this year, the event was jointly hosted by the New Hampshire Chapter and the Southern Maine Chapter of MOAA. 185 members from both chapters, family and guests enjoyed good fellowship and our traditional feast of clam chowder, lobster or steak, mussels, corn-on-the-cob, potatoes, onions, rolls and watermelon.
We were joined by a number of distinguished guests including Congressman Chris Pappas, Portsmouth Naval Shipyard Commander, CAPT Michael Oberdorf, USN and his wife Tara, Lt Gen Dana Atkins, USAF (Ret.), President and CEO of MOAA, CAPT Erin Stone JAGC, USN (Ret.), Senior Director, Council and Chapter Affairs MOAA, Col Jim O'Brien, USAF (Ret), Executive Vice President and COO of MOAA (at least his fourth year attending!), MAJ Brenda Pennels, USA, President of the Southern Maine Chapter of MOAA, and members of various Chapters of MOAA stretching from Massachusetts to Florida! New Hampshire Chapter Vice President Lt Col Larry Miller, USAFR (Ret.) welcomed everyone to the event. We were honored to have a US Navy color guard, from the Shipyard Clinic, post the colors while chapter member (and President of the Association of the United States Army local chapter) LTC Gregory D'Arbonne, USA (Ret.), sing the National Anthem.
Once again, our Chapter Bakemaster, COL Ken Lull, USA (Ret.), ably assisted by his second-in-command, Lt Col Joe Daley, USAF (Ret.), and Drinksmaster, CW5 Bernie Satterfield, USA (Ret.), succeeded in putting on an outstanding Lobsterbake. We welcomed Charles Frost of Dunbarton who joined our chapter on the spot.
The main benefit of the Lobsterbake, other than to enjoy a great home-cooked bake, is to support the Chapter's Scholarship Fund. This locally run program helps children and grandchildren of the New Hampshire Chapter members with college expenses by awarding grants of $2000.00 and $4000.00 per academic year. This year TEN students will receive loans. Thank you to all who contributed!!
In addition to the money raised for our Chapter's Scholarship Fund, Chapter members donated a substantial amount of can goods helping to support the Manchester VAMC Veterans. Finally, a special Bravo Zulu to all those who made this event as successful as it was. It could not have been done without all the hard work of the chapter volunteers!!
| | | |
| --- | --- | --- |
| Preparing the food | Volunteers at the ready | Check in here |
| | | | |
| --- | --- | --- | --- |
| Presenting the colors | Singing National Anthem | Lt Gen Atkins speaking | Congressman Pappas |
---
Annual Meeting - Nashua Country Club
It was an historically warm day breaking many records when the Chapter held its Annual Meeting and Luncheon at the Nashua Country Club on November 5, 2022. The business meeting was attended by 23 Chapter members. While this was going on, the spouses caught up with personal news. Prior to the luncheon, chapter member Warren Coulter raised $90.00 to support veterans' organizations in NH. 80 members and guests enjoyed a delicious meal excellently prepared by the staff of the club. As always, the staff of the country club was extremely helpful in accommodating every request.
Before the meal, those present participated in the traditional playing of all the service marches, including the new Space Force march. Unfortunately, this year no one was present from the Coast Guard, NOAA or USPHS to stand up for their marches. Our guest of honor, CDR John Benda, USN, presided over the installation of this year's Officers and Board of Directors for the chapter. The results of the annual elections can be found on the "Chapter News" page. Once again we acknowledged the passing of chapter members who had died since the last annual meeting. TAPS was played for them.
We were pleased to have as our guest speaker, CDR John A. Benda, USN, the 76th Commanding Officer of the USS Constitution (Old Ironsides). He gave a thoroughly entertaining talk about the various preceding Commanding Officers of the USS Constitution as well as what the ship and crew are doing these days. Click here to listen to his talk. He was presented with a Chapter Certificate of Appreciation, a Chapter Challenge Coin, a picture book of New Hampshire and a free one year's membership in the Chapter. We were joined by three first time attendees: Ellen Bald of West Lebanon and Fred & Sally Dinsmore of Newton.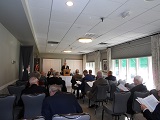 Business Meeting
| | | | |
| --- | --- | --- | --- |
| Business Meeting | Spouses Get Together | Check In Here | Socializing |
| Socializing | Swearing In | Head Table | Speaker's Gift |
---
Hot Items | Contacts | TRICARE | Program Notes | Chapter News | Membership Info |
Newsletter| Group Travel | Transition Assistance | Odds and Ends | Granite State Warriors Award